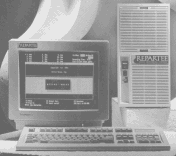 In-Touch also provides voice processing systems from Active Voice---a world leader in pc-based voice mail systems. The Repartee by Active Voice provides a seamless integration with the AT&T-Lucent Legend, and Definity phone systems using analog ports. The Repartee combines powerful message ability with A.V.'s patented 1 for yes and 2 for no, easy to remember response prompts.

Users on the Repartee platform can integrate your desktop pc with the Voice Mail (VM) system via Microsoft Windows. This feature gives the user at each VM extension the ability to view stored phone numbers and faxes, on screen, with the click of a mouse.

Repartee can also grow with your company, starting as a small as a 2 port system and can grow to a 60 port system with 150 to 550 hours of caller messages.

---
PAL is a cost effective Alternative voice mail solution for the Partner ACS and the Legend phone systems in the following ways:
PAL is a PC based stand alone system. PAL does not take up a valuable card slot that could be used to expand your phone system with lines or stations. The Partner VS does take up a card slot.
PAL for Partner allows your customer to dial by first or last name when reaching the company directory. Partner VS Mail does not allow to dial by name.
For less than you would pay for a partner 4-port VS, your company could purchase 4-port PAL for Partner and benefit from all of the mentioned features and more!
PAL provides call screening, Partner VS does not.